Navigating Podcasts on the Radio Page

Listeners can download, subscribe to and listen to your Podcasts from your Radio Page. Click on the Podcast icon in the Navigation Bar on the left of your Radio Page. (pictured above).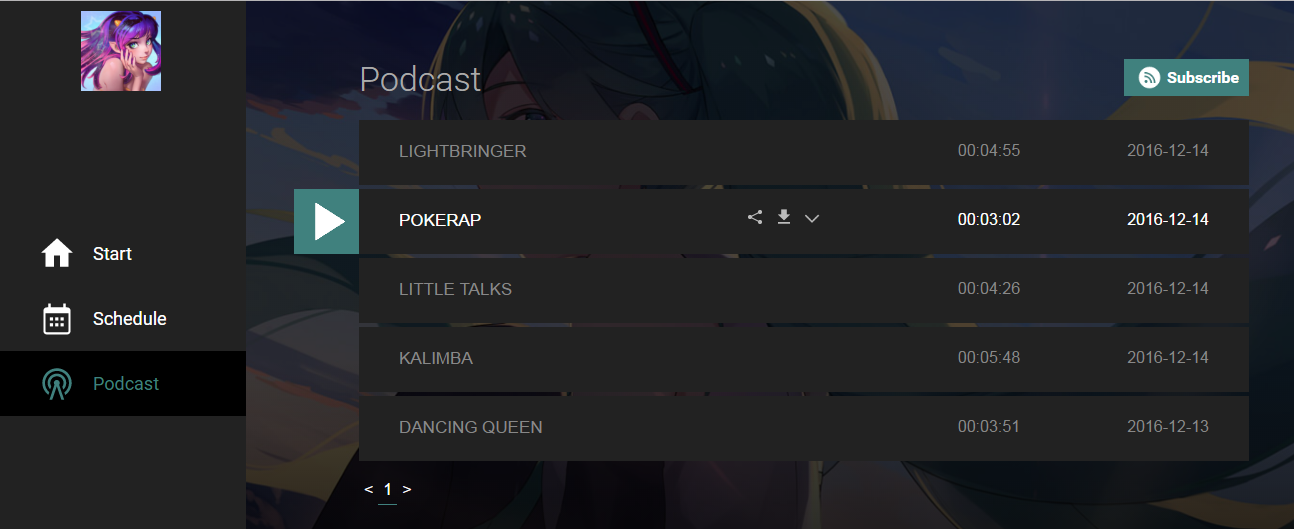 Clicking on the Podcast link in the Navigation Bar will take the listener to a list of your Podcasts. You will see the same background as on the main landing page for your Radio Page in the background of your Podcasts page. If you haven't published any podcasts, your podcast page will be empty and will display "No tracks have been published yet".

If you have published podcasts already, you will see a list of the Podcasts that you have published so far. You will see several buttons when you mouse-over each podcast.
Share button

Share - Each podcast has a Share button when you mouse over it. This allows listeners to share your podcast through various social media channels.

When the listener clicks the Share button, they will see a new window with options to share it through Twitter, Facebook, Google+ or email.
Download button

Download - Each podcast has a Download button. This allows listeners to download the podcast to their device. The download will start automatically once the button is clicked. The file will be downloaded to the default device download folder.
Expand / Collapse button


Expand - Each podcast has an expand button. By default the podcast descriptions are hidden. Only one description can be viewed at a time. The description can be added to the chosen track in the Tracks tab, prior to publishing as a podcast.

You can hide the description again by clicking on the collapse button. (pictured above).

The listener can preview the podcast by clicking on the triangle-shaped play icon that appears when they mouse-over a podcast in the list.

The listener can subscribe you your podcast RSS feed by click on the Subscribe button. Note that the listener must have an RSS reader installed on their browser for this to work properly.