The comments feature allows your readers to directly contribute content to your Live Blog.
Enabling Comments in the Theme Settings
You must be an administrator on your Live Blog to enable Comments. Even when Comments are enabled, an Editor must approve the Comment in the Editor mode before the Comments are visible in the Live view.


 This is the Hamburger menu.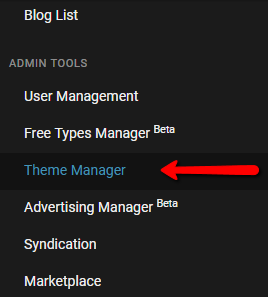 Click the Hamburger menu button in the top left corner of the Live Blog interface, then click Theme Manager.
Click Settings button on the Theme for which you'd like to enable comments. Once there, check the Users can comment checkbox and click Save.
It should be noted that not all themes will support comments and some themes do not have a settings page.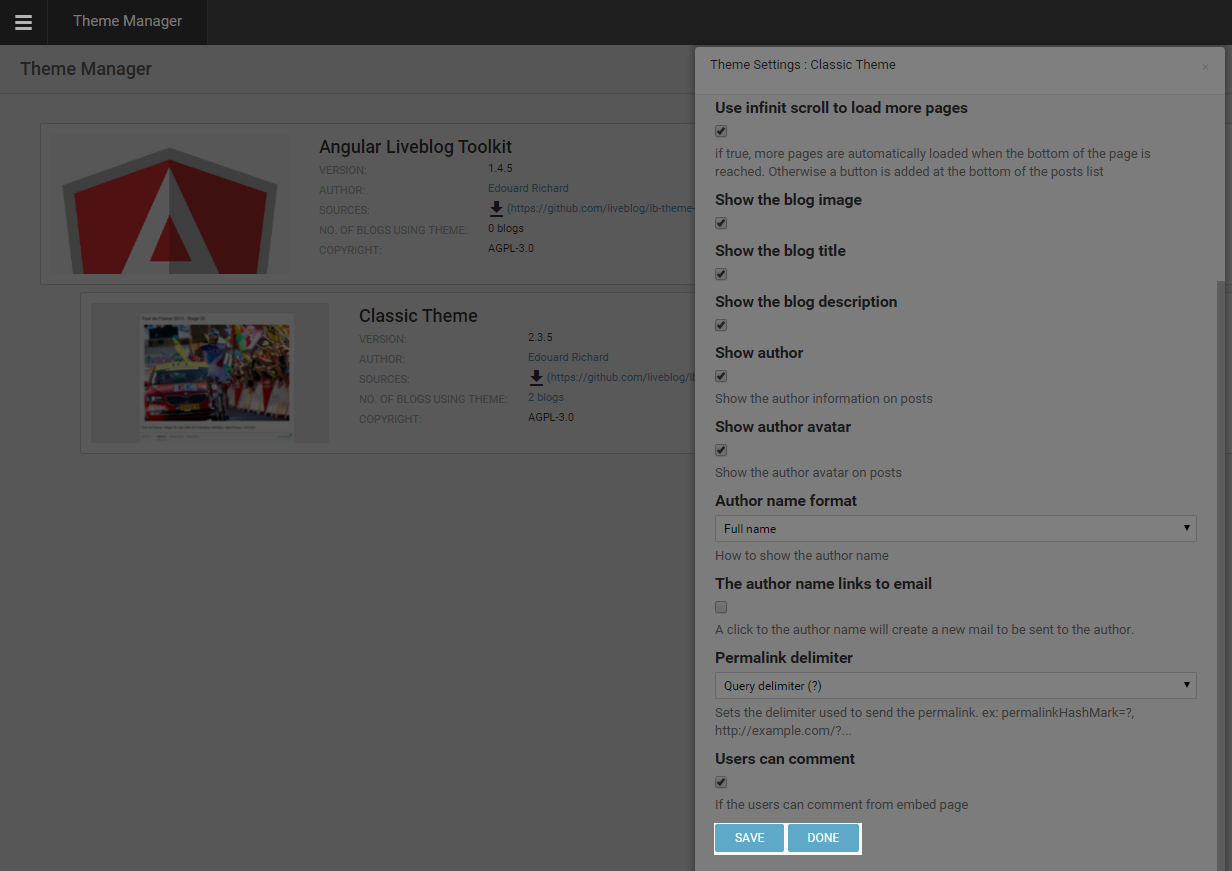 Commenting as a reader
Once comments are enabled in the Theme settings, readers can comment on your blog. Here is what your readers will see: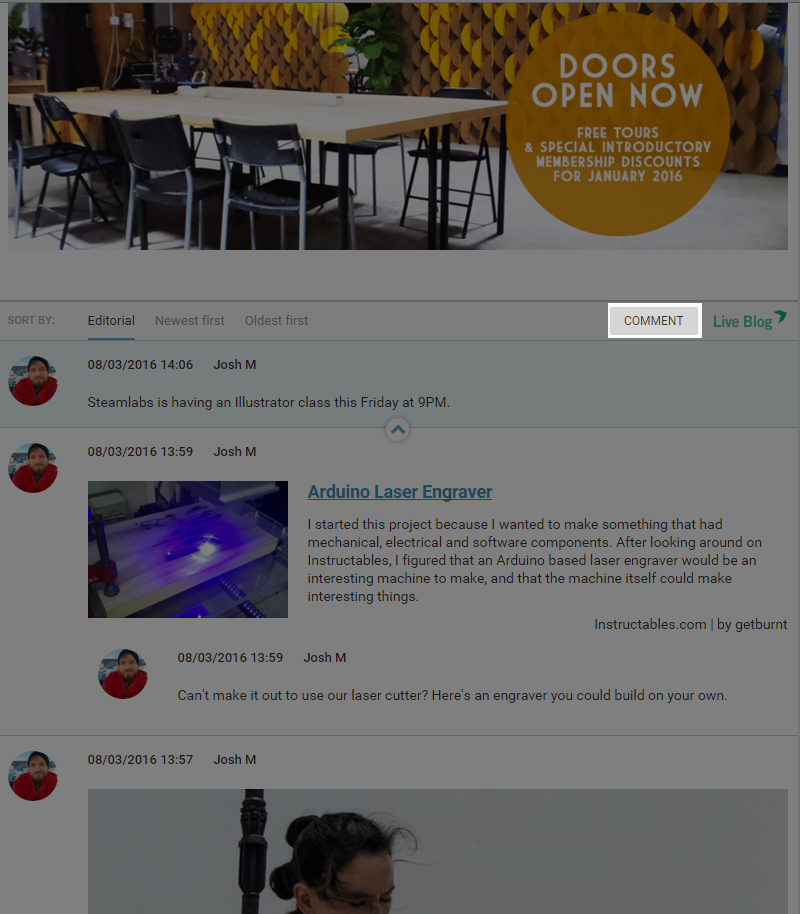 When your readers are viewing their Live Blog, they'll now see a COMMENT button as highlighted above. By clicking the COMMENT button, they are able to submit comments for editor approval.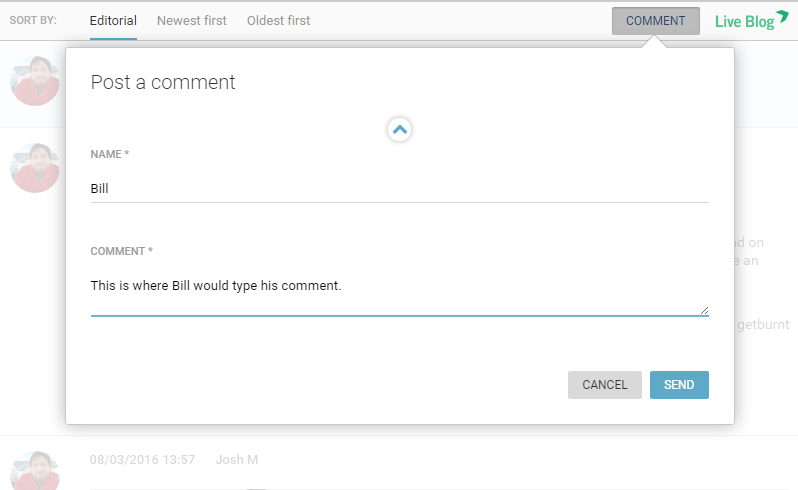 Both the NAME field and the COMMENT field are mandatory. Once your reader fills out both, they hit send to submit it to you. Live Blog does not support embeds from your readers. Comments must always be approved by an Editor before they are visible to other readers.
Comments in the Blog Editor

Editors will see a notification of a newly submitted comments as a blue numbered bubble on the comments tab icon. The number indicates how many new comments have been submitted.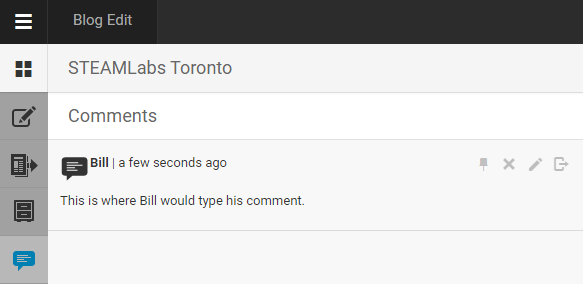 From the comments tab, Editors can choose to publish the comment directly using the publish icon.
Alternatively, Editors are able to treat comments in a same way as text items: delete them, add replies, comments, photos, or embeds above or below the comments prior to publishing it like a regular multi-item post.

To add replies before publishing the comment, click on the pencil-shaped edit icon. Note that nobody is able to edit the content of the comment once submitted by the reader.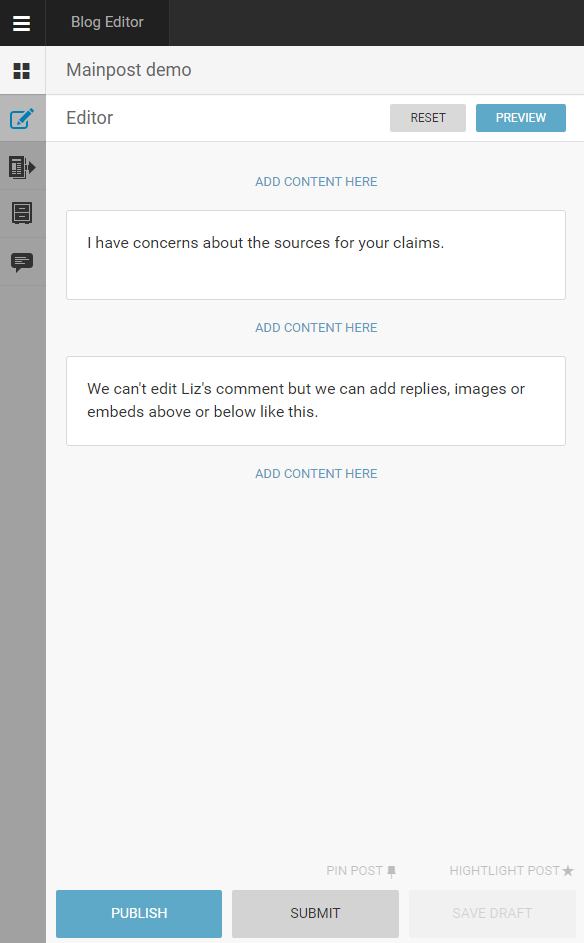 Clicking on the edit icon will open the comment in the editor tab, where you can add text or embeds above or below the comment.
If you click the SUBMIT button, then the comment, with the Editor replies, will be saved in the Contributions tab. If you click the PUBLISH button, the comment will become visible in the Live view, along with any Editor replies.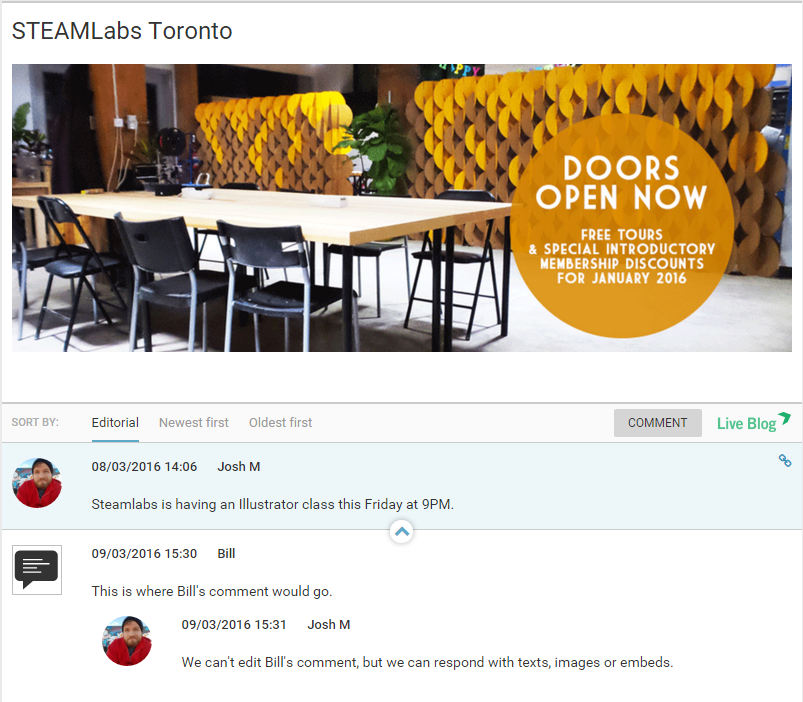 Once the comment has been approved, it's published to your Live Blog with the comment icon to the left. Any posts or embeds you make will show up above or below, in response to the comment, along with the editor's avatar.