TuneIn is an independent 3rd party website and mobile application which allows listeners to search and connect to online radio stations. TuneIn can be used on many devices such as tablets, phones and computers.
Setting up a TuneIn profile for your Airtime station is optional, but recommended. Using TuneIn is a good way to attract new listeners to your station. TuneIn users can search for radio stations by location, genre or style.


To get started with TuneIn go to their website and sign up for an account. The TuneIn URL is: tunein.com


Once you've signed up for a TuneIn account, click on the Broadcasters link at the bottom of the TuneIn website. This will take you to a page where you can enter all the information for your Airtime radio station.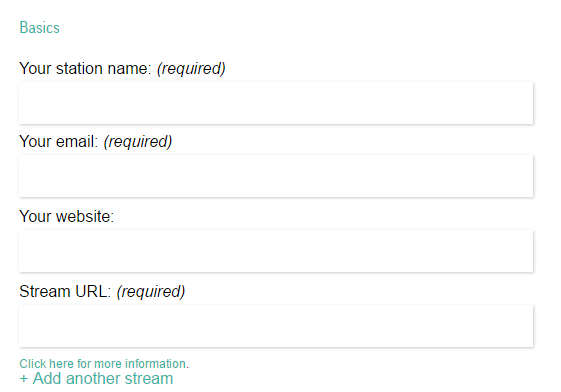 To set up your radio station in the TuneIn station directory, you will need your Airtime Stream URL. Your Stream URL can be found in Airtime Pro under the Settings tab.


Go to Settings > Streams > Output Streams to copy and paste your Stream URL into the textbox on the TuneIn webpage. Do not click on the Stream link; instead copy and paste it directly from the Airtime interface. Your Stream URL should end in stationname_a or stationname_b.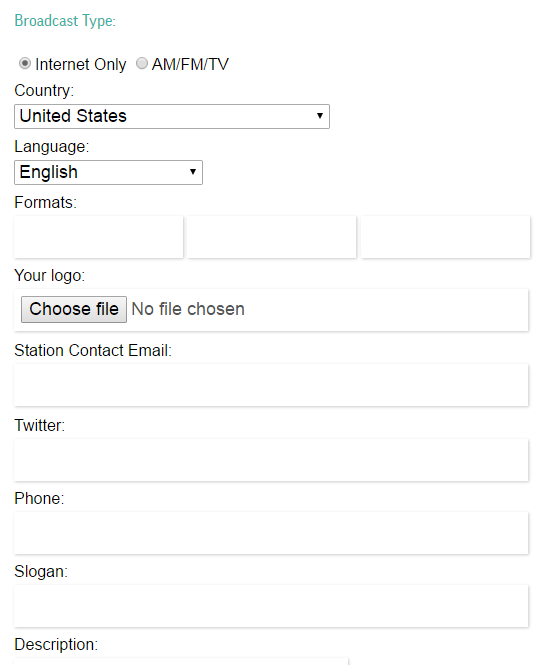 Fill in as much information on the TuneIn website as you can. The more information that you can add, the easier it will be for new listeners to interact with your Airtime Station.

When you are done filling in the sign-up form, click the Sign Me Up! button at the bottom of the page. It will take TuneIn at least 24 hours to approve your application.
Once your application has been approved by the TuneIn team, you must record your TuneIn Station ID, Partner ID and Partner Key in Airtime. You can find the TuneIn settings in the Airtime menu by selecting Settings > General > TuneIn Settings.
If your TuneIn.com URL is 'http://tunein.com/radio/tuneinstation-s######/', then your station ID would be 's######'.
Partner ID/ Partner Key will be given to you by the TuneIn team. Send them a short email request letting them know that you are using Airtime Pro and include your Station ID. Contact them at broadcaster-support@tunein.com. TuneIn will send you an email with your Partner ID and Partner Key. More information can be found here: http://tunein.com/broadcasters/api/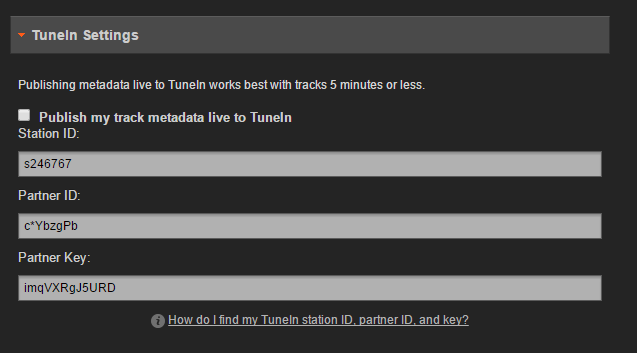 Clicking on the Publish my track metadata checkbox allows TuneIn to access the Airtime API and show the names of tracks and artists currently playing on your station on the TuneIn website. Because of the TuneIn refresh rate, the live metadata works best with tracks that are 5 minutes or shorter.


After your TuneIn radio page is up and running, you can make changes to it by clicking on the Update your Station link on the right side of the broadcasters page and filling in the associated form. The owner of the station will receive an email to confirm the changes. This is useful if you want to change the Airtime Stream URL, a radio description, radio contact information or TuneIn tags, etc.
 Airtime Pro is not affiliated with TuneIn. If you have further questions about TuneIn. Please contact the TuneIn support team.