Highlights feature in Live Blog
The Live Blog Highlights feature offers a great way to flag important content for your readers. When using the Classic theme, the Highlights button appears as a star-shaped icon (orange when on; grey when off) located in the timeline view at the top-right corner of each post. However, theme designers can style this feature so that it appears differently.
Editors can choose whether or not to make highlighted posts publicly visible to readers or to use the feature solely for internal purposes. See 'Including Highlight Button in Embed' for more detail on this.
Highlighting a Post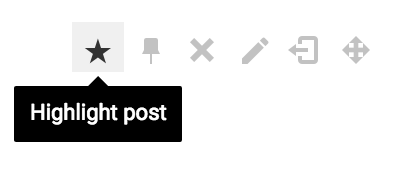 To Highlight a post, click the star-shaped icon located at the top-right corner of a blog post in the Timeline view. Once highlighted, the star-shaped Highlight icon will turn orange.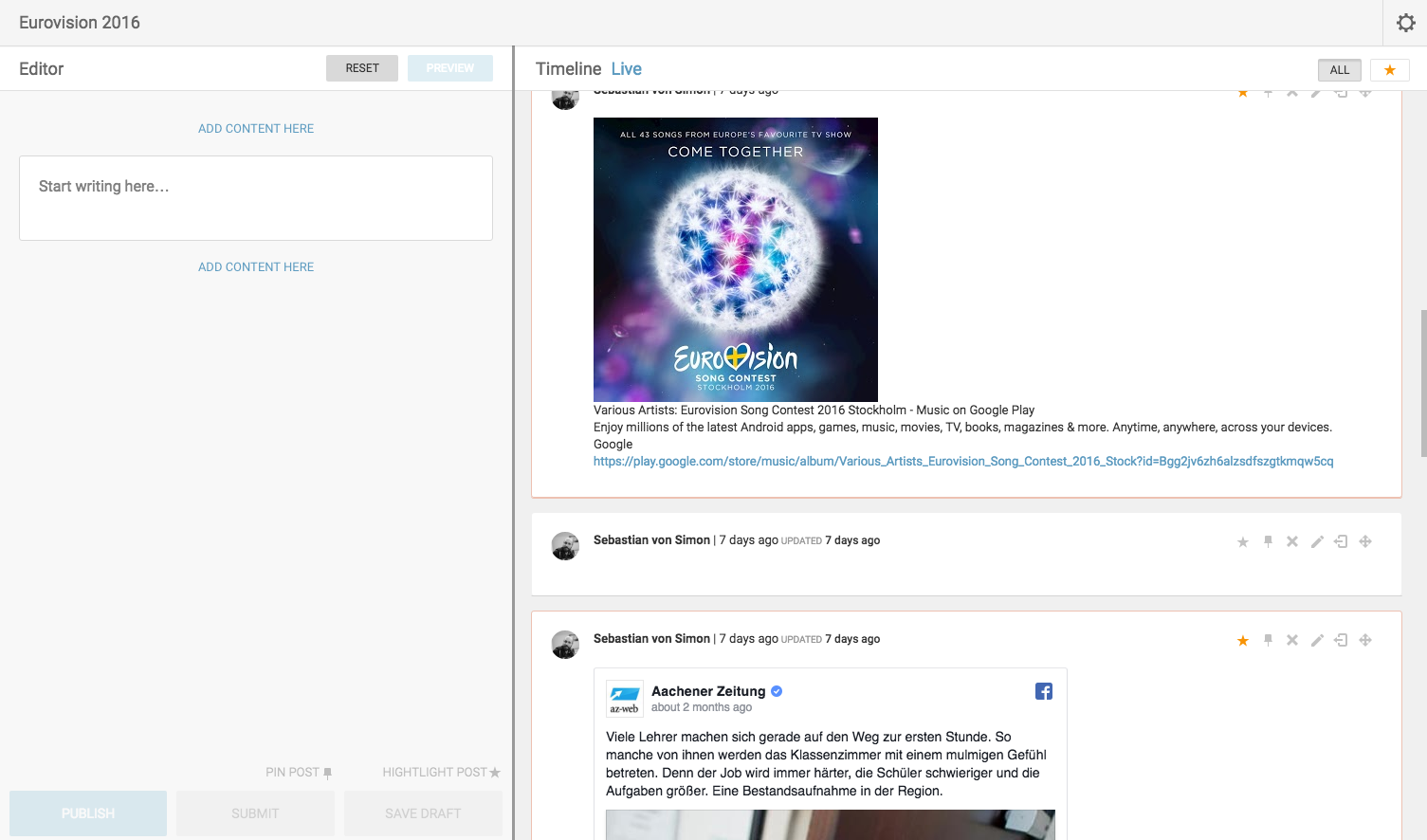 Highlighted posts are recognizable by their orange outline and a filled-in orange star in the top-right corner.
Removing Highlights from Posts
To remove the Highlight from a post, click the orange star-shaped icon so that it turns grey. When the Highlight icon is grey, the Highlight feature is not active.
Blogs that have not yet been published, but are still in their draft stage, can also be highlighted.
Viewing Highlighted Posts in the Timeline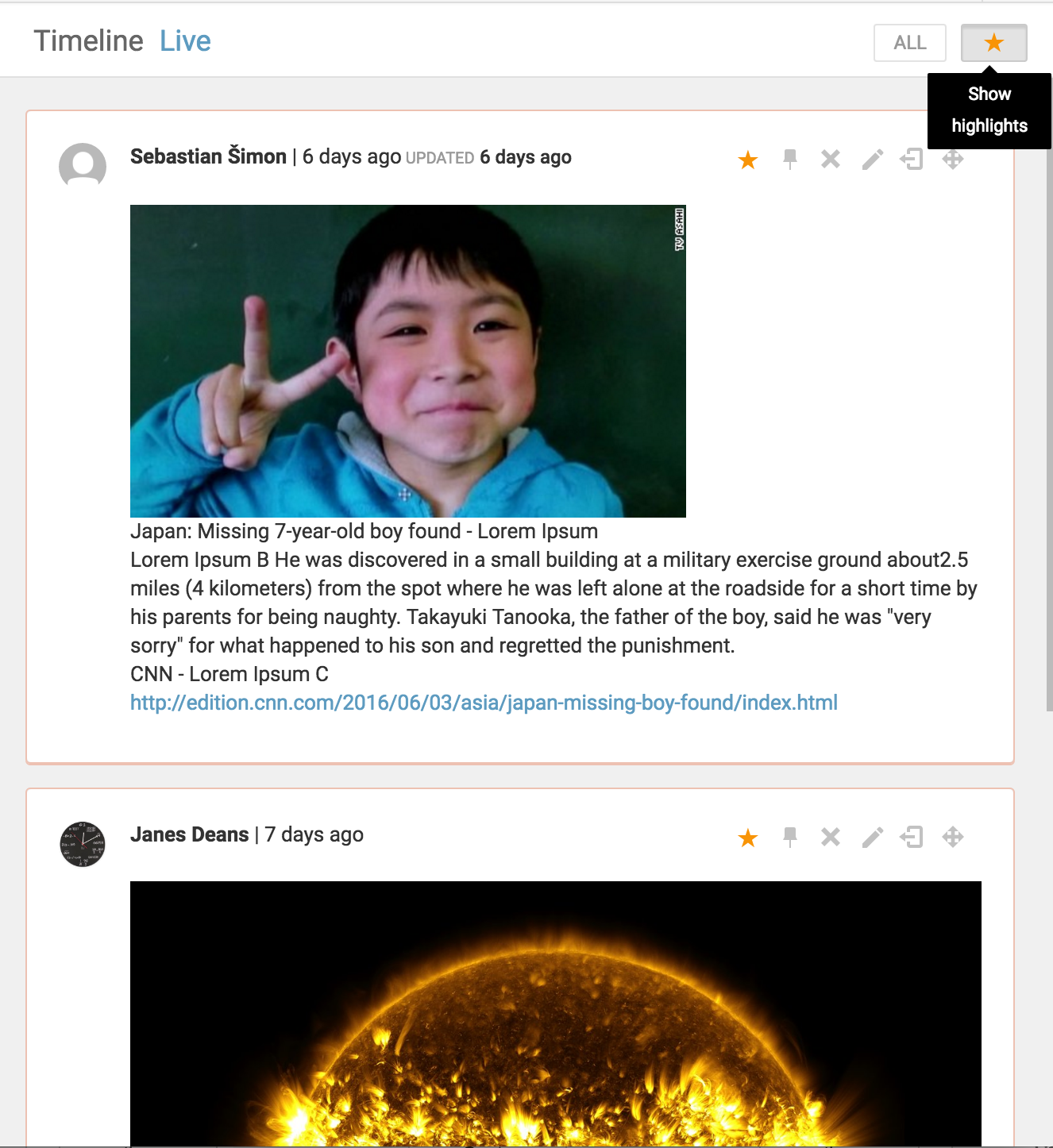 In a blog timeline view, it's possible to switch between seeing all posts or solely highlighted posts. By default, all blog posts are shown in the timeline; the All button is grey.

In order to view only highlighted blog posts, click the star-shaped icon located at the top of the timeline, to the right of the All button. When you've selected the Show highlights view, the ALL button becomes grey and the star (Highlights button) becomes an orange colour.
Readers have a similar option to toggle between viewing all posts or highlighted posts. The highlights only view can be accessed by clicking on the orange star at the top of the timeline beside the COMMENT button.
By default, access to the Highlights feature is turned on for readers when using the Classic Theme, but Admin users have editorial control over whether or not to include this feature for users. This toggle in the Theme settings is pictured above.
Enabling or Disabling the Highlight Button in the Live View
It is possible for editors to choose whether or not to allow readers to filter between Highlighted and non-Highlighted posts.

 This is the Hamburger (Settings) menu.
To turn the Highlights button off (by default, it is turned on when using the Classic theme) navigate to the Theme settings. Click on the Hamburger Menu in the top-left corner and click on Theme Manager.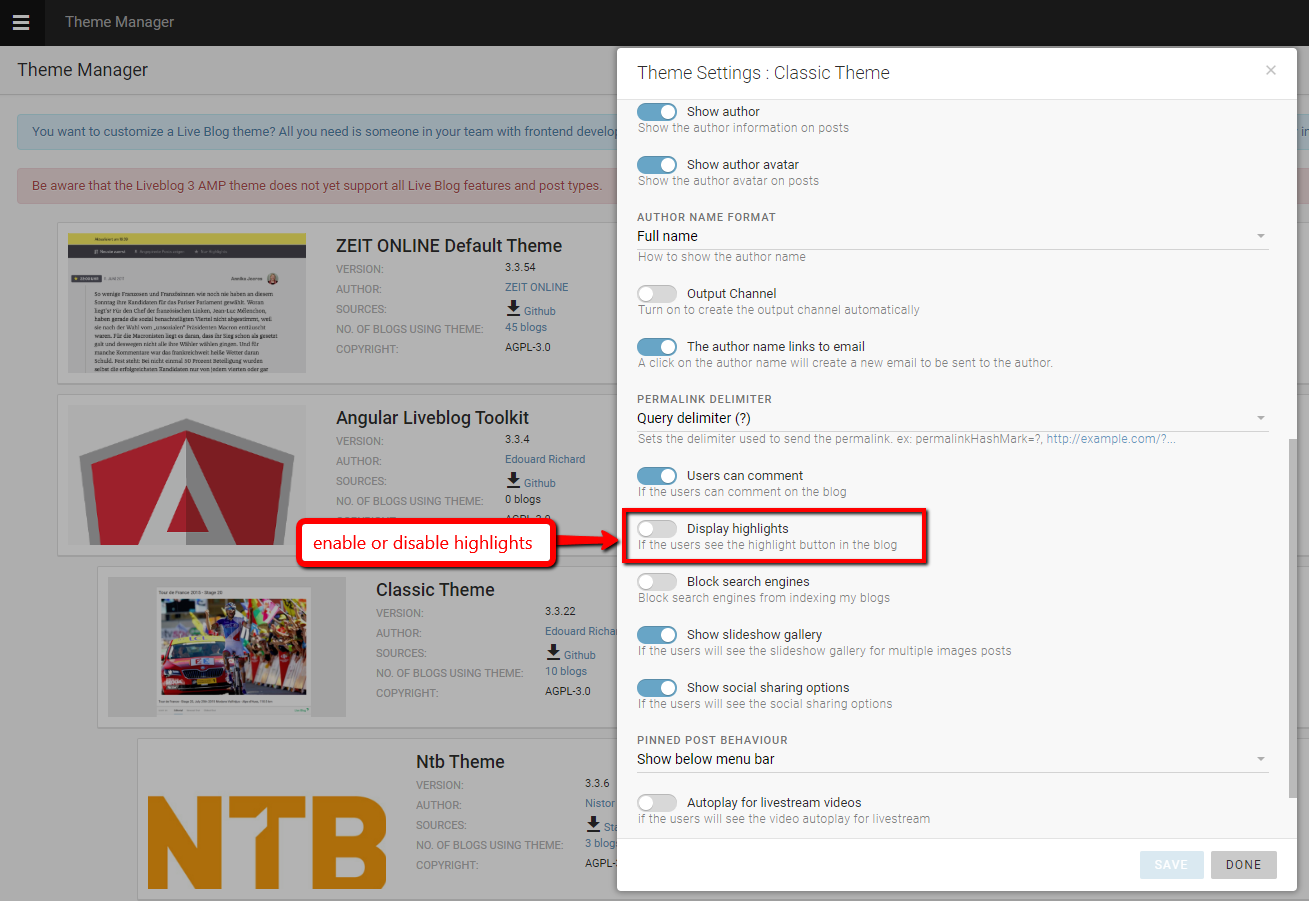 Click on the SETTINGS button located to the right of the Theme you're using. Scroll down to the 'show highlights' toggle and turn it off. Click the DONE button at the bottom to save your changes.