As a station owner, you can give multiple users access to your Airtime instance to aid in producing content for your station. The station owner is called the Super Admin. Super Admins are granted all permissions by default. Only a Super Admin has access to the Billing tab.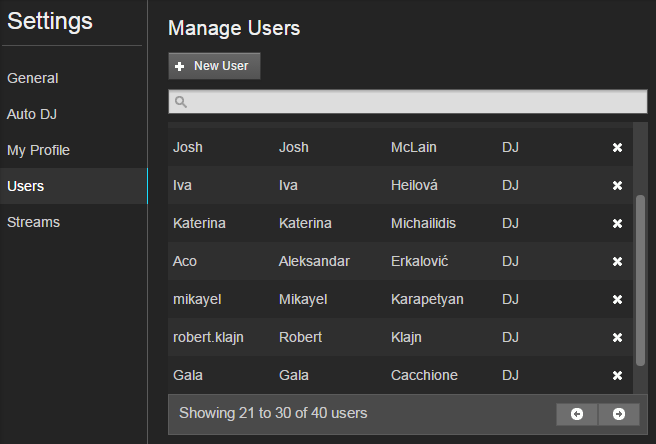 New users can be created using the Settings > Users > + New User button.  

When you create a new user, you will have to select a User Type from the drop-down menu at the bottom of the new user creation window.

User Types include Guest, DJ, Program Manager and Admin. Detailed instructions and information about what each permission level involves are available on this Help Desk post:
https://sourcefabricberlin.zendesk.com/hc/en-us/articles/210452663-New-Users-Settings-and-Permissions
Note that any Admin can change the privileges of any non-Super Admin user at any time. To do this, Admin users can select a different User Type from the drop-down menu at the bottom of the user creation window. Given the significance of Admin privileges, it's important to be careful about to whom you give Admin privileges. Admins or Super Admins can also delete users by clicking on the x in the far right column in the User Management window.