Your blog readers may have the option to send feedback or comment on your blog but the comments will not be visible to the public until they are approved by an Editor. Whether readers will be able to comment or not is part of your Theme settings. If commenting is not enabled, you will not see this tab in your Blog Editor mode. You can read about enabling reader Comments here.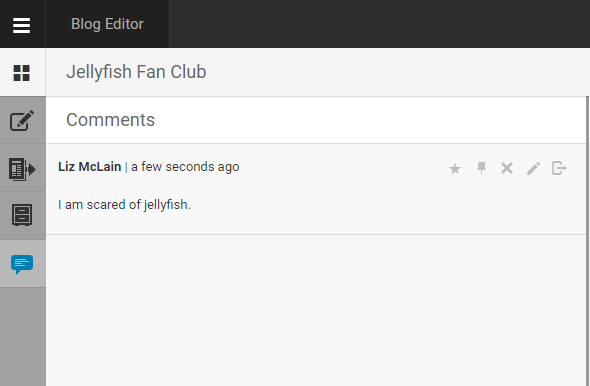 In the Comments tab, you will see all of the Comments that have been submitted from your blog readers.

From left to right, the options on the top right corner of each Comment include highlight, pin, remove, edit and publish.

If you choose to publish a Comment, it will appear in your Blog, just like a regular post, but with the Comment icon beside it instead of a Live Blog author avatar. You will see the name of the person who submitted the Comment to the right of the date.
If you choose to edit a Comment, it will open in the editor tab. It is not possible to change the Comment text or the reader's name but editors can add images, reply text and other media to the Comment. If you add further media to the Comment, these will appear as a reply with the editor's username and avatar.
Once you are done editing, it can be published the same way. The Comment icon will remain, even if you add reply content before you publish it. For more information on the Live Blog Comments feature, see the full Comments section of the Live Blog manual here.
Comments can be pinned and highlighted just like regular posts using the pin and highlight icons at the top of each post.