Live Blog comes with various themes preinstalled - one of them being the Liveblog AMP theme, which renders the content compatible to the "Accelaretad Mobile Pages" project. Publishers that want to deliver their content not only in the regular browser, but also specifically optimised for mobile devices often choose to render their content also according to the requirements of AMP.
Live Blog supports this approach with the possibility to publish the same content in different ways. For this purpose administrators and editors can create additional Output Channels. Output Channels are used for branding purposes and to inject advertisements into the liveblog timeline on the one hand and to publish the same content based on different themes on the other hand. Now, as soon as your organisation has set up Live Blog in a way that it´s output can be embedded into the article pages not as iframes (which would not match the AMP criteria), but based on Edge Side Include technology - you are ready to go.
AMP compatible Output Channels can be created specifically for each individual blog or based on a general setting in the Liveblog 3 Default SEO theme.
Add an AMP compatible Output Channel to an individual blog
Create a blog
Open the blog settings by clicking on the gear icon in the top right corner of the interface
Click on the menupoint "Output Channel" and create a new Output Channel by clicking on the blue plus sign
Give it a name (for example AMP) and scroll down to select the Liveblog3 AMP theme
After saving your changes an Output Channel based on the AMP theme will be created
Supply the Output Channel URL inside your CMS to load the AMP compatible output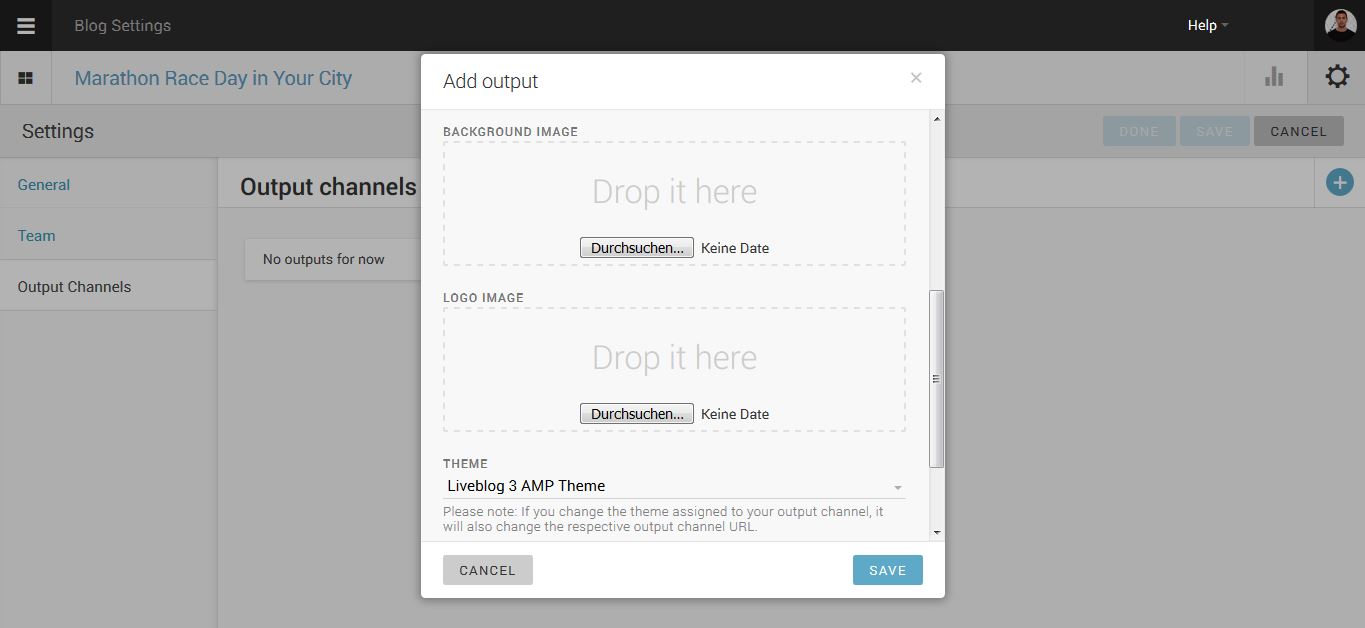 Automatically add an AMP compatible Output Channel to every new blog
If your organisation does not only want to deliver certain content or blogs in an AMP compatible way, but decides to always support this type of output, you can also automatize the creation of AMP Output Channels based on the Liveblog 3 Default SEO theme. Here is what you have to do:
Go to the Theme Manager
Open the theme settings for the Liveblog 3 Default theme and make sure to switch on the "Advanced settings" and scroll down to the "Edge Side Include Options".
If you are working with AMP compatible output all switches should be activated and you can now add an Output Channel name and select an Output Channel Theme (in this case the AMP theme)
After your settings are saved, each time when you create a new blog now based on the Liveblog 3 Default theme, an Output Channel with the given name and based on the AMP theme will be created automatically.